What's new in DWGSee 2020?
DWGSee 2020 is more than a dwg viewer, it's a quick drawing editor, converter, version comparing tool.
Drawing Revising
Drawing contents like text, line color, layer, block attribute can be selected and removed, or right-click to edit their properties.
Inserting objects
Many objects such as line, circle, texts, leaders… can be easily added into your drawing
Adding Layers
You may rename a layer or add new layers on the drawing, for example, adding comments in new "annotation" layer.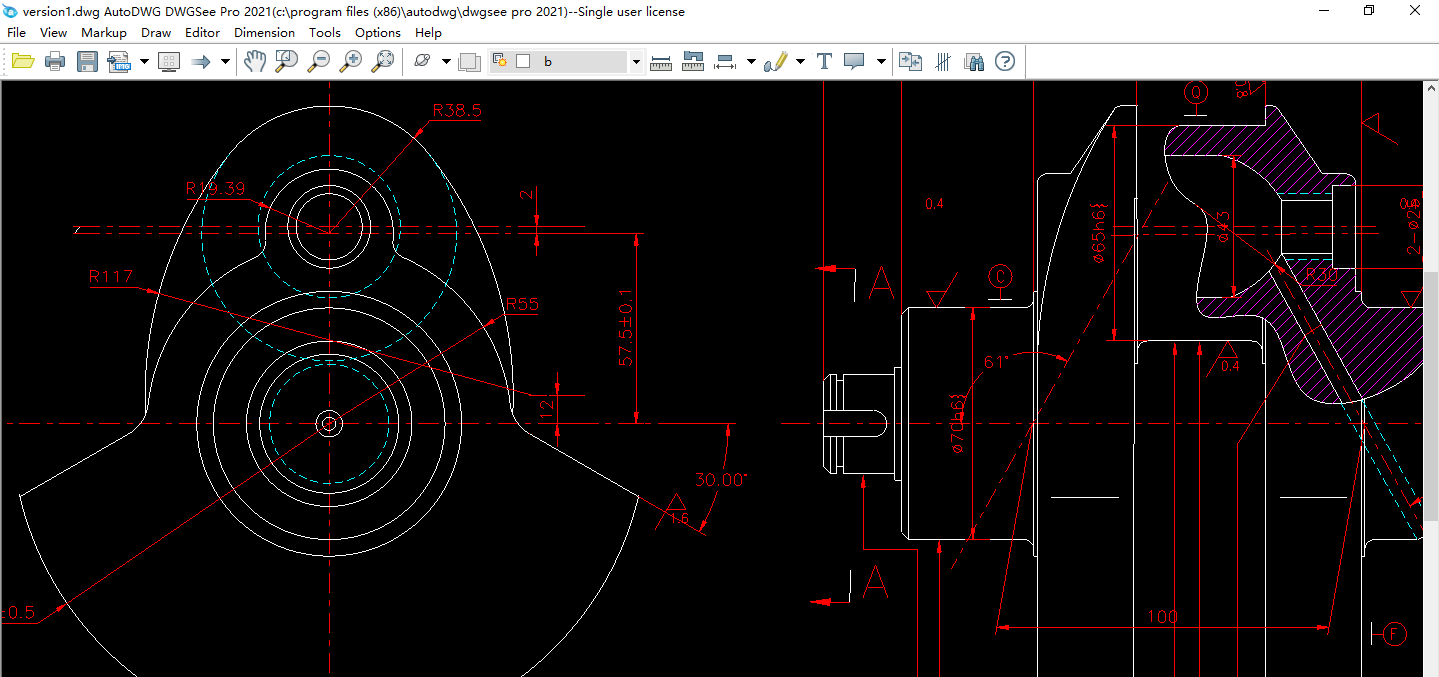 More features
DWGSee DWG Viewer is a light and fast viewer, designed to browse, view, measure and print DWG/DXF/DWF files.
Supported formats
Support AutoCAD .dwg .dxf .dwf files, version R14 to the latest 2020, and also can open raster image formats—.bmp .jpg .png .gif .tif
Save as
Save drawing file to different versions of dwg/dxf files, includes R14-2020, DWGSee has a build in AutoDWG converter
Export (Pro version only)
Export drawing to pdf and raster images within few simple steps, good for distributing your designs, or drawing reviews
Measuring objects (Smart-snap)
Easy to measure objects' size, distance, orthogonal linear dimension, draw a polygon along the object border to get it's perimeter and area, select a circles or arc-chord to calculate it's area…
Print and batch print
You can open up a DWG/DXF to print it out, or, you can select many drawing files to print them with few clicks, no need to open each of them.
Markup drawing
You can either retain .dwg no change and add your comments in a separate markup file, or, you can add additional layers, lines and texts to the dwg file.
Compare drawings
Showing two versions of a drawing in split windows, synchronize zoom and pan for both drawing, list differences and highlight them in drawings.
Miscellaneous features
Searching text in drawing, save layouts to individual drawings, encrypting drawings and protects them with password…
Floating license available
In case your company has many workstations and most of time they are not running DWGSee, then the network license will save your cost
Terminal server supported
Works for Citrix, XenApp… Window Terminal Server
See specialized smart features
We develop some smart features for working faster.
Sum line length
Sort out lines by layer/linetype/color or click select lines to calculate the sum of line lengths
Sum areas
Calculate the sum multiple areas, extract the area data or insert the area data table to current drawing
Count objects
Auto-check and count similar blocks and symbols in the drawing, or select the objects for count one by one.
Smart Copy
Using smart copy, you may copy the select objects by choosing layer/linetype/color to new drawing.
Extract table
Pop-up table object, you may edit and extract table object to separated csv file. And we also support table template customization.
Copy to office
Copy drawing and then paste it to Microsoft word as vector image, you may also share the images to others.